How to Choose the Right Microblades?
Share
Issue Time

2022/08/09
Summary
In order to obtain good postoperative results and to take care of the client, it is very important to choose the right microblade tool. The following is an introduction to how to choose the right microblade, hope it can help you choose the right microblade tool.
With so many different types of micro blades, how do you choose the right blade for your microblade supply kit?
There are many different kinds of blades for microblade. In order to obtain good postoperative results and to take care of the client, it is very important to choose the right
microblade tool
. Every client has different skin. Skin varies in thickness, oiliness, and sensitivity.
Older skin is mostly thinner and less resistant than younger skin. Additionally, you will find tissue laxity, collagen, and elastin in the skin decrease as the client ages.
Knowing the skin and deciding which blade to use accordingly can be difficult, but it's the path to the end goal - a good result and a satisfied and happy client.
Devices suitable for microblade
There are several different blades. Blades in microblade are actually many fine needles placed close together to form a type of blade, with single and double rows of blades with different needle counts. The blade may be rigid or flexible, and the needles provided in the integral blade are positioned in different shapes.
Blades go from 7 stitches all the way up to 28 stitches, increasing numbers indicate thickness, the thicker the blades, the sharper they are, and vice versa, each blade has its own advantages
U-blade: Great for drawing curvy hair. These blades are recommended for more experienced microblading artists.
7-pin CF blade: This is the best blade of all. It is used for thin brows and fine work. This is a great blade for drawing short, fine hair.
12-pin CF blade: probably the magic number. This blade is the most commonly used. This is a good blade for medium-length brows of medium thickness.
14 needle CF blade: This blade is perfect for medium-thick long brows. It's really good to draw thick eyebrows.
Double row: His blade will allow you to create more even double strokes, no matter what thickness you choose: 7, 9, 13, and 15 stitches, which are great for providing the main structure of the brow hand before filling in the finer details.
Flat shading: For even, straight strokes, not curved applications, the flat shading blade is a must. These are especially useful in shading the brow "tail" or when creating straighter brows for your clients. These blades are available in 12- or 14-pin thicknesses, depending on your needs.
Round needle for shading: This is a great blade for adding more depth and detail to brows, allowing you to create micro-strokes and add more shading. This will give you a more 3D, more natural look in any thickness of 3, 5, 9, 17, 19, and 21pin.
Nanoblade: Nanoblade technology is available in dry description a form of PMU performed by the machine, you can also purchase ultra-thin microblade (NANO blade) with dry standard microblade, they are 0.16mm or 0.18mm. As an artist, these blades allow you to stitch according to your choice of stitches (7, 9, 11, 12, 14, 15, 16, and 18 stitches, in either CF or U shape). These blades come in handy when you want to create hair that is much shorter than regular blades, giving you the freedom to create perfect brows.
Microblade pen
There is a wide variety of pens available across the industry to suit your individual artistic needs and style, whether you want a stiffer pen for more defined strokes or the ease offered by a flexible blade. In addition to needles and pens, you can also use pre-installed hand tools. Depending on the needle you use, with a choice of lightweight, ergonomic, heavy/thick, and double-ended pens in a variety of shapes and configurations, your kit is all about the right microblade device.
Blades should be packaged in special sterile packaging and designed to be single-use, which further ensures the maintenance of hygienic standards and prevents cross-contamination. To ensure customer safety/insurance requirements, all pens must comply with local health and safety guidelines and be sterilized in a sterile/medical facility.
Quality test
After choosing the right blade, it is important to check the quality, if the blade is of poor quality, it will not be thin and brittle and the result will not look as good.
The first step in checking quality is a visual test, but this test can be very trivial. But how do you visually test if a blade will work?
The easiest and quickest way to check the blade is to press on the side with your fingernail, the needle should not move unless it is a flexible blade, while the eye, when pressing on the side of the blade with your fingernail. The needle of the flexible blade shouldn't move that much.
Also, you can do a quick test on the artificial skin to see if you can create clear gentle strokes and the needle isn't moving.
The better the quality of the blade, the better the end result.
The above is a detailed introduction to how to choose a suitable microblade. If you want to customize a microblade tool, please
contact us
.
Charming Tattoo is a professional
custom microblade tools and pigments manufacturer
. We adhere to the policy of R&D innovation and quality first. In order to control quality and color difference, we implement various quantifiable data indicators to ensure that each batch of products in the hands of customers is matched and has the same standard. The company has certificates issued by various international authorities such as CE, RESAP, ISO9001, SGS, MSDS, REACH, GAMMA RAY, etc. to ensure product quality.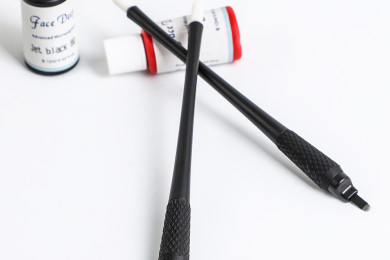 The microblade pen is suitable for eyeliner, eyebrows, lip liner, microblading and tattooing ect.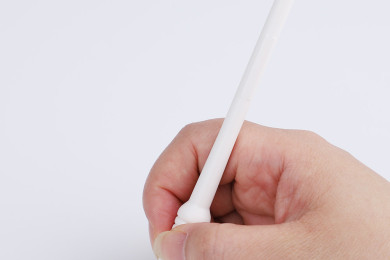 The microblade pen is suitable for eyeliner, eyebrows, lip liner, microblading and tattooing ect.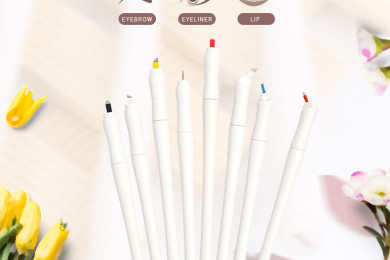 The microblade pen is suitable for eyeliner, eyebrows, lip liner, microblading and tattooing ect.