How to Practice Permanent Makeup?
Share
Issue Time

2022/08/17
Summary
A career as a permanent makeup artist is full of exciting challenges. Until then, it takes a long time to practice permanent makeup, and with a bit of technique and dedication, you'll be well-prepared when you finally start tattooing.
A career as a tattoo artist is full of exciting challenges. Equipment that makes the hand back tired, and the need to replicate a variety of artistic styles, all these obstacles can only be consistently overcome by well-trained and dedicated microblade artists. But even if you have an apprenticeship, it can take a year or more to be allowed to tattoo a person. By using a bit of technique and your dedication, you'll be well-prepared when you finally start getting tattoos.
Method 1: Train your permanent makeup painting skills
1. Keep drawing
As a professional microblade artist, you need to sketch out the designs your clients want. This requires you to skillfully replicate many different styles that can only be truly mastered through experience and repetition.
Collect your favorite designs and practice recreating them. Microblade artists often have to borrow designs from others, which is a great way to get used to it!
2. Draw the outline object
Apples, oranges, and other contoured items can simulate some of the difficulties you have with microblading your body. Look for items that are somewhat similar to the usual microblading areas, so you'll be well-prepared when someone asks for a tattoo on a more curvaceous part of the face.
Alternatively, draw your designs at an angle so they are at an angle.
3. Test your tattoo artist skills with a non-toxic marker
While the experience of painting on a person's face is significantly different from operating a PMU machine and depositing ink on the skin, the practice will get you used to painting on a living canvas and body. You can even seek out your more itchy friends so you can experience a restless client.
Ask them what they want, then practice making their own designs for them. See if they like your idea! That's what microblade artists do every day.
4. Use henna to learn how to apply designs to body contours
Henna is a traditional dye that has been used since ancient times. It is relatively inexpensive and can be purchased online or at many general retailers and drugstores. Since henna will remain on the skin for a few days, you may want to hold off trying until you have some practice with inanimate objects. Then, follow the instructions on the package:
Mix your henna dye and collect applicators for your henna.
Apply it to the subject's skin in the desired design.
Note any improvements that can be made and seek feedback.
5. Train yourself to draw and trace lines
Many professional microblade artists first learn the art by tracing samples and simplifying designs to make them more suitable for the skin. This skill can be imitated and learned academically by taking a training session, which is an exercise in sketching and interpreting original pencil drawings.
Method 2: Practice with a PMU machine
1. Let's first look at the professional use of the machine
Watch professionals set up their machines and equipment and how they prepare clients. As they start microblading, watch how the artist holds and angles the machine, and notice how much pressure they apply.
2. Consider the skin for tattoo practice
Synthetic skin is a relative newcomer to the tattoo world. Practice skins are relatively easy to order online, but many tattooists have criticized fake skin for being too far from real skin. Synthetic skin can:
Useful for getting started and getting a feel for your tattoo machine.
Provides you with exercises to develop your hand strength.
There are a variety of practice skins to choose from to suit your practice needs.
3. Tattoo to the correct depth
Human skin consists of 3 layers, some of which have sublayers. The top layer of the skin, the epidermis, consists of a total of 5 layers that grow outward, which means that the ink deposited in the epidermis eventually fades. The target depth when tattooing should be the middle layer, the dermis, between 1-2 mm below the skin.
Going deep into the skin with a PMU machine can cause unnecessary pain to your clients and can lead to infection risks.
4. Get yourself a tattoo
Before working on another person, get a tattoo on your own skin so you can see how it feels and how deep the needle is inserted. You will also learn about the care of your tattoo and how long it will take to heal, which is important information you can share with your clients.
Next, try offering free tattoos to clients. Many people are willing to get a tattoo for free from a newbie so you can gain some experience.
The above briefly introduces how to practice permanent makeup. If you plan to buy a permanent makeup practice tool or a permanent makeup machine, please
contact us
.
Charming Tattoo is a professional
custom PMU machine and ink manufacturer
with 20 years of experience. We have professional production equipment and a 100,000-level dust-free workshop in line with ISO9001 standards. We provide a professional product, packaging, and post-design, as well as professional pigment knowledge support. In order to achieve a win-win situation, our company has formulated a policy to protect customer privacy. Charming Tattoo has reached cooperation with many well-known brands, and its products are exported to 68 countries including Serbia, North America, Europe, and Southeast Asia.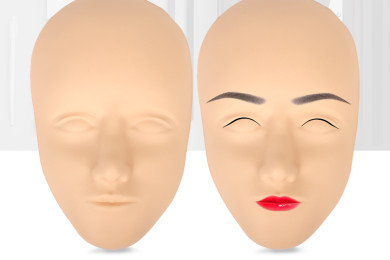 It can be used together with the face model for better effect.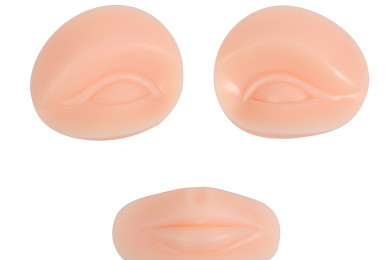 It is used for semi permanent makeup and Tattoo students or beginners to practice makeup.